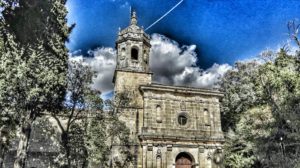 The convent of Caños Santos, Founded by the Ducal House of Osuna.
We highlight the history of this historic monument in the Serranía de Cádiz, I finish municipal of ALCALÁ del VALLE, as the place of stop and lunch in our route magic "Osuna to Ronda horse riding"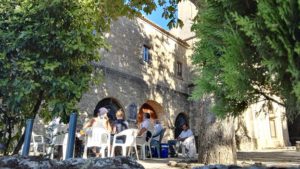 The first documents chronicling the founding of Caños Santos are running the existence in this area of the beautiful valley of a mythical city "Gran Cenosia", inhabited by Greeks, Trojans and Roman, He was falling into a small town in time of the Goths (the legendary narrative attributed to these hiding in the caves of the carving of the Virgin, to protect it from the Arab invasion)
In the year 1512, the cowboy Tello Pascual, a man of Christian morality, discovered by chance the spring and cavity.
By that time, They grazed numerous herds of cows in valle Hermoso, one of their cattle escaped quoted Pastor frequently and siguiendola became a paradise spot a green meadow and in, along with a wellspring of abundant crystal waters born a wall carved by man, He found the missing RES.
To glimpse a light rock and after their way among the thorns, Brambles and reeds, stunned discovered an old and long enclosure with a height of 2´50 metres and a length of more than 30 meters, inside, see the beautiful image of the Virgin Maria rodeade of great splendor.
After this discovery the events occur, propiciados by Christian victory, that you germinate in the construction of the first chapel for worship of the Virgin of Caños Santos.
The Hermitage of Nuestra Señora de Caños Santos was built in 1512 and given that same year to lay hermits, receiving a large influx of visitors attracted by the miracles attributed to the Virgin Mary.
Juan Tellez Giron, IV count of Ureña, father of the first Duke of Osuna, in 1543, known misuse of abundant alms given by the faithful and other flows passing through the hands of the hermits, speaking to the third Franciscan Fray Martin de las Cruces and having studied the matter provided lands and membership to keep the cult of the Virgin.
Fray Martin Cruces, attends Caños Santos, carrying the document's provision, which produces the delivery of the Hermitage and its heritage to be managed on the basis of the Franciscan TOR.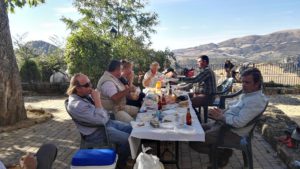 #Osuna #alcaladelvalle #olvera #deosunaarondaacaballo #turismoruralosuna